You know how around this time of year people start posting their perfect family pictures, with the perfect background, the perfect smiles and you look at those photos over and over again and you begin to feel like you must be the ONLY one who doesn't have it all together. The only one who can't seem to get her family to cooperate let alone be in the same place at the same time. You can look at a family photo and think that they have it all together. But the real question is "does anyone ever feel like they really have it all together"? The resounding answer would be NO. I have never met a person who claims to actually have it all together, after all no one can do it all. This is what I loooove about what I get to do as a family narrative photographer, as I enter into your life I get to find the beauty around what feels like chaos.
I am so excited as I prepare to give away a whole year of photo sessions in 2020 to a family so that I can tell their beautifully imperfect story of little moments of the love and connection they have while they do life together. I love that I can really get to know my Family of the Year as we tell their story for generations to come. (giveaway is now closed, be on the lookout for this years family!)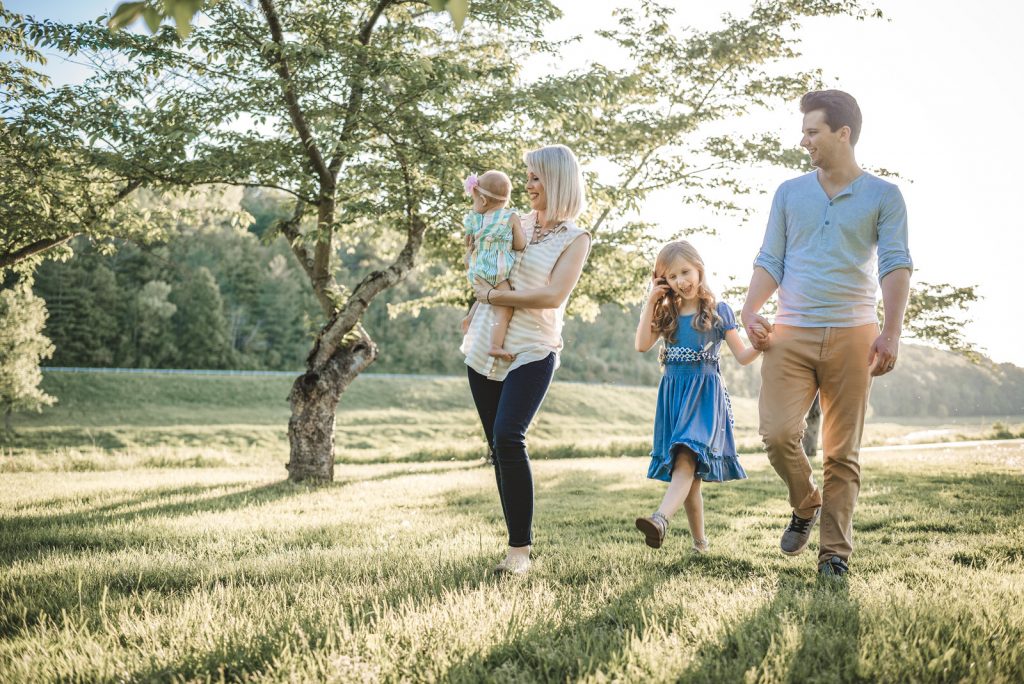 This last year I got to know the Smith family and in some ways you can look at them on the surface and think they are a perfectly adorable family of four, but once you go beyond that they certainly wear their heart on their sleeves as they face the many health challenges of their youngest daughter. As Scarlett's biggest advocate this family chooses to celebrate life together well and in all they do! I was so lucky to get to tag along and document the heart of their everyday story.
Scarlett was diagnosed before birth with CDH (Congenital diaphragmatic hernia), which is a defect in an unborn baby's diaphragm, the muscle that divides the chest cavity and abdominal cavity. In her one year of life she has had many major surgeries (including open heart) and a number of ICU admissions, among many other complications. She travels from Ohio to Florida regularly to see specialists. The Smith family is the sweetest and work tirelessly to get her the love and care she needs. Working alongside of them this year documenting their family narrative was a joy and honor. I was able to document their first Christmas tree selection, Scarlett's first birthday celebration and a session at their home remembering their everyday family life being so much more than medical stuff like physical therapy and g-tube feedings but the play time, books, snuggles and cuddles in between it all! All these days and moments are fleeting and I love being able to preserve them and shine a light on the big love in the small moments of life and mundane. My favorite of all was this video really showing life with the Smiths. You need to check it out here.
Time for Your Story
You may not be facing the same challenges as the Smith family right now but each family has its own story to be told and brought out among the rubble of life. Do one of these life situations fit you? Or can you tell me a different story?
• Do you feel like you spend all your time doing the dishes, cleaning up spilled cereal just to be beckoned to the living room floor to play legos (again). In these moments it is hard to see the way your son looks at you as he grabs your hand and pulls you close to him.
• Or maybe you and your spouse are not exactly getting along these days, but you both still love on your family and want them to remember the good and happy moments you do have together going to get icecream and THIS is the time you want your kids to etch into their memory
• You work really hard at your job, just to come home and cart kids around to this or that and you barely survive until bedtime. So lets find the even small moment in the beauty of your story in a lazy Sunday evening together on your front porch.
Be the one who invests in your family memories by highlighting the time you have together at this age and stage. Bring to life the beauty among the chaos. Preserve the presence of life and love in your family that you can carry with you for a long long time.
What story do you want to tell today, this month or this year?
---
Find out more information on my family films and video sessions check that out here Or just to see all my family film sessions head over to at my Vimeo Account